Description
Lord of Life (Korth-P., – Korth-L.; 2021)
28", 5.5", EM, Dor., 3 branches, 15 buds, Tetraploid,
(Ransom Paid x (Adorned with Joy x (Spring of Living Water x Secret Ambition)))
Lord of Life was marked for introduction in 2019 and lined out for propagation.  What impressed us most during the 2020 bloom season was how consistently perfect the flowers were.  Phil usually photographs the best flowers in the garden each day but had to quit photographing Lord of Life as there were numerous excellent flowers each day.  What this means for the gardener is a great show of spectacular flowers throughout the bloom season.  The flower itself is not large in diameter but is wide petaled with a large eye and wide edge.  The overall appearance is large and full of life.
As a parent, we saw some exciting seedlings the last few years that came from Lord of Life.  It is pod and pollen fertile.  The seed pods from 2020 were large with big healthy seeds inside.
The genetics go back to previous Pinewood Garden introductions but include lavender eyes, pink eyes, and dark purple eyes.  We have taken Lord of Life into many colors but have focused recently on lavender/blue eyes.  Lord of Life has been especially successful in our blue/lavender eye program.
Lord of Life will provide gardeners consistently beautiful flowers and for hybridizers, Lord of Life will be a work horse in the breeding system passing on great flowers with dormant and hardy plant habits.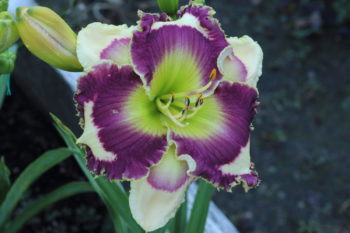 Lord of Life
Lord of Life Seedling