Description
Sign of Jonah (Korth-P., – Korth-L.; 2021)
36", 6", M, Dor., 4 branches, 19 buds, Tetraploid, Fragrant,
Blue Racer x Pinewood Evening Star
Sign of Jonah looked like an introduction from its first bloom.  The large lavender/blue eye is banded by purple and is copied on the sepals.  Sturdy, tall scapes with good budcount hold these unique flowers in prime position for viewing.  After several years of evaluation, we have enough to introduce and can highly recommend it for the garden or hybridizing.  See pictures below that show Sign of Jonah and its offspring.
Sign of Jonah is fertile both ways and we wisely used it for breeding early on.  It has been a workhorse in our lavender/blue eye breeding program with the eye and edge getting larger in the seedlings.  We have several potential introductions with Sign of Jonah as a parent being lined out and evaluated.
Sign of Jonah clump
Sign of Jonah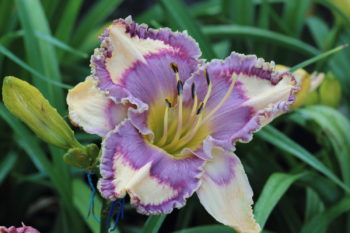 Sign of Jonah seedling 804-2
Sign of Jonah seedling 804-3
Sign of Jonah seedling 818-2