Description
Koinonia (Korth-P., – Korth-L.; 2021)
36", 6.5", E, Dor., 3 branches, 12 buds, Diploid,
Pinewood Lily Pad x Pinewood Limelight
Koinonia is one of the first daylilies to bloom in our garden.  We had Koinonia lined out last summer at the far end of the garden and the large, mostly green flowers stood out from over 100 feet away when viewed from our patio door.  While the bud count is lower than we would like, the plants produce abundant scapes in a small clump and each large flower is nearly perfect.  The result is a great show in the early season.  The parents of Koinonia are our own Pinewood Lily Pad (still a unique flower) and dramatic Pinewood Limelight with its intense green throat.  Koinonia is easily pollen fertile and pod fertile with some difficulty.  The seedlings from Koinonia are large and green, just the way we like them.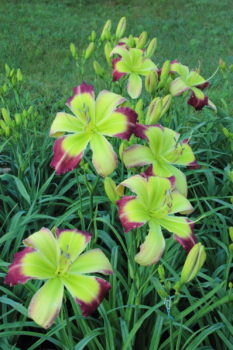 Koinonia
Koinonia