Description
Judgment Day (Korth-P., – Korth-L.; 2020)
32", 5.5", ML, Dor., 5 branches, 30 buds, Tetraploid,
Violet Predator x (Lydia's Cloth x Gnashing of Teeth)
We are pleased to finally make Judgment Day available.  It first bloomed in 2015 and has been a little slow to increase.  However, we believe both gardeners and hybridizers will enjoy growing this fine flower.
As hybridizers, we worked hard to develop hardy plants that could pass on that hardiness to their offspring.  Our own Lydia's Cloth has been an excellent purple cultivar that was used with many plants that were not as hardy in our climate.  Gnashing of Teeth was a beautiful flower but a weak grower for us.  When we crossed Gnashing of Teeth with Lydia's Cloth, we got many fine seedlings but none that passed our criteria for both hardiness and performance.  One of those seedlings was crossed onto our hardy Violet Predator with the result being a hardy and beautiful plant now named Judgment Day.
There are many purple flowers with white teeth and while I do not have firsthand knowledge of most of them, several characteristics of Judgment Day seem to be unique.  First is the clear color.  The petals and sepals are rich purple with a lighter lavender watermark.  The toothy edge is consistent around the petals and sepals and the tooth color is normally white but can be light gold depending on the weather.
Second is the general absence of blemishes on the petals and sepals.  Going back to Lydia's Cloth genetics, the lack of blemishes is a wonderful trait making the flowers of Judgment Day consistently beautiful.
Third, the flowers do not open fully until 7 – 9 am depending on the weather that day.  This has two benefits – (1) later opening avoids dew, rain, and bugs that can damage flowers overnight and (2) allows the dark flowers to look good later in the day.
As a hybridizing plant, we have many nice seedlings under evaluation with Judgment Day as the parent or grandparent.  Clear colored reds and purples with a variety of fancy edges have been most common but in 2021, we saw several lovely doubles out of Judgment Day.  Looking back at the genetics, we saw that our one double introduction (Double Blessing 2020 introduction) also had Violet Predator as a parent.  There must be some genetics for doubling in Violet Predator that was passed on to Judgment Day.  Anyone interested in doubles may want to consider Judgment Day as well.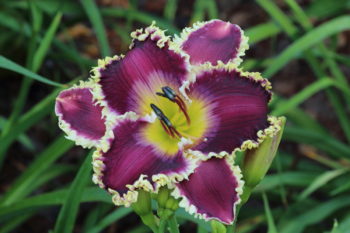 Judgment Day
Seedling 929-3 (Judgment Day grandkid)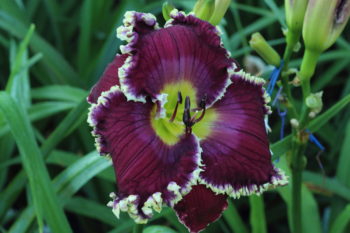 Seedling 929-5 – Judgment Day grandkid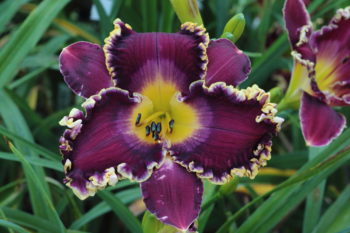 Seedling 30-5 – Benjamin Andrew x Judgment Day
Seedling 110-3 – Judgment Day x 829-5