Description
Royal Throne (Korth-P., – Korth-L.; 2020)
29", 5.5", ML, Dor., 4 branches, 28 buds, Tetraploid,
Year of Jubilee x All Things to All Men
In 2013, we crossed Karol Emmerich's superb breeder – All Things to All Men – onto some of our best plants including Year of Jubilee.  From that cross, we selected 8 seedlings in 2015 for further evaluation.  After 4 years of evaluation, we had determined seedling 536-9 was the best but needed to evaluate it against another seedling (Feast of Victory x All Things to All Men – 507-7).  While both flowers were beautiful and had good bud count, 507-7 was a little short and was never introduced.  Seedling 536-9 was selected and named Royal Throne.  We held it back one year for increase and have a good stock of it ready for 2022.  This rigorous selection process ensures we introduce excellent plants.
The flowers of Royal Throne are quite complex.  The base petal color is a medium violet.  The eye zone is surrounded by a dark purple band fading to lavender blue around a green throat.  The edge mirrors the eye zone with a band of dark purple, then lavender, then a frilly edge of light gold.  All that stuff comes together as a stunning flower.  In the garden, Royal Throne opens well and has minimal blemishes.  The scapes have high bud count which may require some dead heading for the best look.  Perfectly hardy in our climate, this flower should do well anywhere dormant daylilies grow well.
Because it is a later bloomer, we did not hybridize much with this plant early on.  However, we set quite a few pods on Royal Throne the last couple years and have to believe it will make lovely flowers.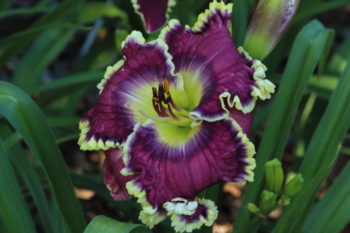 Royal Throne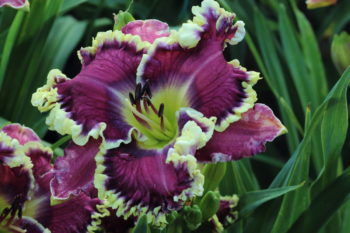 Royal Throne