Seedling 407-8 will likely be a 2021 introduction. It has been somewhat slow to multiply and is 2 years behind some of the plants from the same year class that were introduced in 2019. This flower is worth the wait. We collected statistics on this flower and it is a 6″ flower with average height of 28″ and up to 30 buds. The genetics are interesting as we crossed reds into purples on both parent sides.
The pod parent is a seedling we never introduced – Lydia's Cloth x Born to Run (seedling 171-1). Lydia's Cloth is our introduction that has been a breeding powerhouse combining many genetic lines into a dormant purple with white edge, nearly blemish free petals, and great scapes. Born to Run is a clear red evergreen from Floyd Cove Nursery. The seedling is a clear red but has purple genetics in it.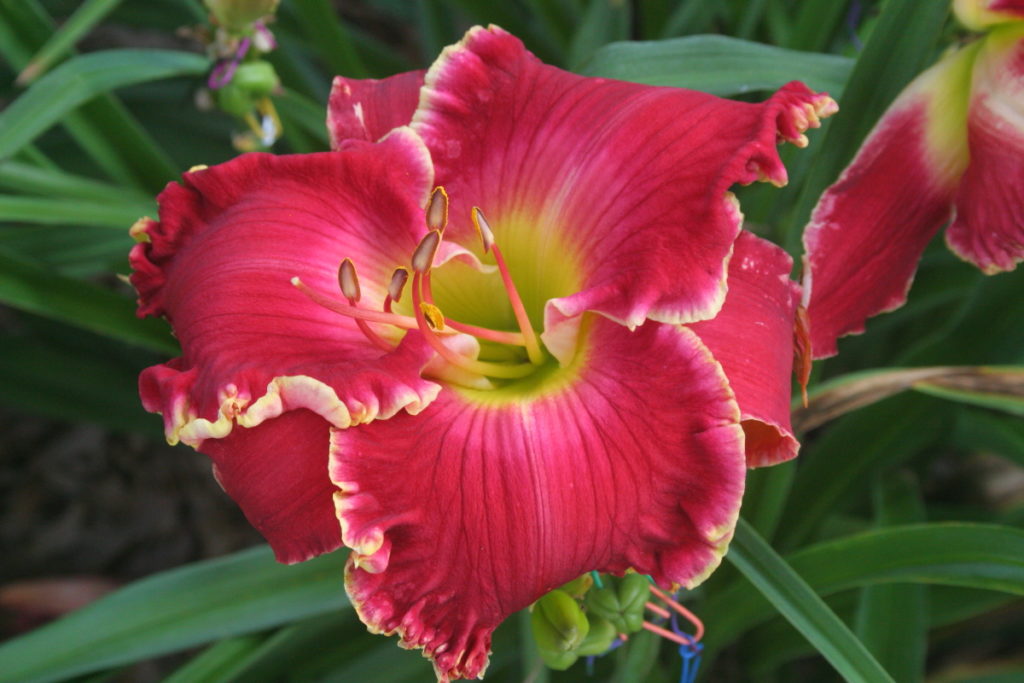 The pollen parent is another seedling we did not introduce – Lydia's Cloth x Harold Steen. This seedling (244-2) had a purple color but carried the big edge genetics from Harold Steen.
The resulting flower has the rich color from Lydia's Cloth (possibly more burgundy than purple.) The big edge apparently comes from Harold Steen as that has the biggest edge in any of our dark flowers. We look forward to coming up with an appropriate name for this flower and releasing it in 2021.